Takashimaya is one of Japan's leading department stores. This article is about the monthly "WELCOME DAYS" event held at Takashimaya.
Takashimaya Card Premium and Takashimaya Card Platinum Debit Card holders receive a "WELCOME DAYS" notice once a month.
We just received the Welcome Days information for October 2022.
The October event at Shinjuku Takashimaya will be held from Friday, October 14 to Sunday, October 16.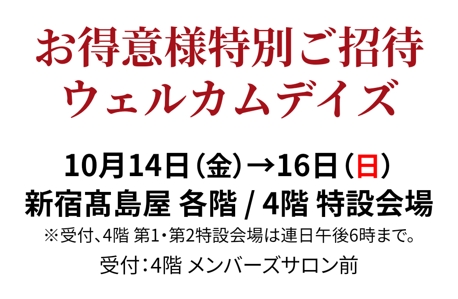 Its contents can be confirmed in advance by scanning the barcode on the notice envelopes.
What is Welcome Days?
Welcome Days are special invitations for Takashimaya customers, and are usually held on Friday, Saturday, and Sunday around the 20th of each month. (In my case, it is Takashimaya Shinjuku. Please check about other stores)
What discounts are available on Welcome Days?
You can shop at preferential prices of 5% to 20% off for eligible brands.
In addition, the Takashimaya Credit Card offers a 5% discount or 8% points on top of the discount price, making it very economical if the brand you want is eligible.
Takashimaya Platinum Debit Card gives 10% points.
Discount and point rates for groceries and cafes differ from the above.
Can I see what's in the Welcome Days in advance?
The postcard or envelope mailed to you will contain an ID and password, so you can view the list table distributed on the day of the event on your smartphone by reading the QR code.
If you cannot confirm the list in advance, you can bring the postcard to the reception desk in front of the members' salon to receive the list of brands eligible for the special discount.
What discounts are available? (October)
You will receive preferential prices of 5% to 20% off on eligible brands.
Brands and products include groceries, accessories, women's shoes, handbags, jewelry, watches, women's clothing, men's clothing, lingerie, children's clothing, sports, travel goods, toys, golf, living ware, bedding, furniture, and eyeglasses.
All sales floor brands have some exclusions.
What are the payment methods?
Only "Takashimaya Credit Card" or "Takashimaya Platinum Debit Card" is available for payment. It cannot be used in combination with other special offers.
Conclusion
This is a monthly event, but the brands are subject to change, so it is recommended to check in advance!
スポンサーリンク